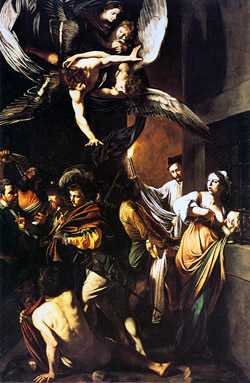 CARAVAGGIO AND HIS FOLLOWERS IN NAPLES
- Naples - 2 hour Tour
DURATION:

2 hours

PRICE:




According to the number of participants

The price includes only the guided service

THE ENTRANCE FEE OF THE MARTYRDOM OF SANT'ORSOLA COSTS € 4 PER PERSON AND IT IS NOT INCLUDED.

THE ENTRANCE FEE OF THE GEROLAMINI GALLERY COSTS € 3 PER PERSON AND IT IS NOT INCLUDED.

AT THE MOMENT PIO MONTE DELLA MISERICORDIA DOES NOT PROVIDE ANY ENTRY TICKET, BUT IN CASE OF SUDDEN CHANGE THAT ENTRANCE FEE IS NOT INCLUDED

FOR OPENING HOURS OF PIO MONTE DELLA MISERICORDIA CHURCH AND BANCO DI NAPOLI ART GALLERY, THIS GUIDED TOUR IS ARRANGED ONLY IN THE MORNING AND NOT ON ON MONDAY AND WEDNESDAY

AVAILABILITY:

All-year-round

INCLUDES

English-speaking guide for 2 hours

Meeting with the Guide at a prearranged meeting point in Naples.



On May 28, 1606, the painter Michelangelo Merisi da Caravaggio stabbed another man, Ranuccio Tomassoni, during a brawl during a tennis match in Rome. Tomassoni was killed and the wounded Caravaggio received a death sentence, which could be carried out at any time by anyone. The already famous painter fled Rome for his life, beginning his travels through southern Italy and Malta, which were to alter his painting style and shape the history of Western art. He died in 1610 at the age of 38 during a desperate attempt to return to Rome. Caravaggio's brief stay in Naples produced a notable school of Neapolitan Caravaggisti, including Battistello Caracciolo and Carlo Sellitto. The Caravaggisti movement there ended with a terrible outbreak of plague in 1656, but the Spanish connection – Naples was a possession of Spain – was instrumental in forming the important Spanish branch of his influence. In 1606, when Caravaggio arrived for the first time in Naples, this city was one of Europe's largest and wealthiest - cosmopolitan and international, its people possessed a fierce individualism that remains to this day. Its population was three times that of Rome and was continuing to grow. This particular situation attracted many artists who were committed here easily. When Caravaggio arrived, he found a generation of "Neapolitan" painters who learned quickly and interpreted each one in different ways his painting.




During this guided tour, these following paintings will be shown:


In the Chapel of the Seven Works of Mercy:
The Seven Works of Mercy by Caravaggio
The Liberation of Saint Peter by Battistello Caracciolo
In the Gerolamini Gallery:
Baptism of Christ by Giovan Battista Caracciolo
Martyrdom of San Bartolomeo by Giovan Battista Caracciolo
Saint Peter by Jusepe de Ribera
Saint Andrew by Jusepe de Ribera
In the Sant'Angelo al Nilo Chapel:
Pietà by Jusepe de Ribera (Copy)
In the Church of San Domenico Maggiore:
The Flagellation of Christ by Caravaggio (copy by Domenico Antonio Vaccaro)
In the Sanpaolo-Banco di Napoli:
Martyrdom of Sant'Orsola by Caravaggio
THIS TOUR WILL OPERATE RAIN OR SHINE, SO BE PREPARED FOR ALL WEATHER CONDITIONS.


ENTRANCE FEE FOR THE BANCO DI NAPOLI AND FOR THE GEROLAMINI GALLERY ARE NOT INCLUDED.